We are a family business helping seniors for 30 years, Please visit us on Angie's List. Call the number below to speak with a licensed agent.
Enter Your ZIP Code for a FREE Medicare Supplement Quote!
Your information is safe and secure with us and not sold or shared with any other company.
Medigap Health Plans
Have you crossed your 60s and your health conditions make you anxious all the while? We do admit that we cannot reverse your aging process or prevent the occurrence of health complications. But at Mediagap 4 Seniors, we can assure that you will have some sort of financial assistance from us even when you are 65 years or older, suffer from certain disables or at the End-Stage Renal Disease. Our unique Medicare Insurance Plans aim at being your friend in need when you need money to cater the requirements of your medical emergencies in a timely fashion.
Feel free to give us a call today to discuss your requirements.
Medicare Plans offered by Mediagap 4 Seniors have much more to offer as compared to the mediocre quality medical insurance programs offered by run of the mill agencies. Our aim is to enhance your experience with our Medicare Health Plans. Hence, Medicare has been designed to provide medical based emergency financial laid all the citizens of United States of America and all the legal residents of the country who have stayed here for a continuous span of five years. What is the most welcoming aspect of these Medicare plans is that they are tailor made and provided to all the people of USA irrespective of their age, background financial status.
If you are interested and want to know more then leave us a message now. Our executives will get back to you shortly.
Social Security benefits are integrally interlinked with the Medical Health Plans offered by Mediagao 4 Seniors. Therefore, you can be assured that we will get the service that you require during medical criticalities against all the monthly premium and yearly charge that you pay for your chosen Medicare Plan. Now you may be eager to know how you will enroll with us. Well, the simple process has been shared for your convenience.
Applicants who are already enjoying Social Security benefits

You will automatically be enrolled with Medicare Part A or Part B as soon as you turn 65 years of age.
You will receive your Medicare care within three months from your 65th birthday.
You can stop Medicare Part B wherever you want. For that you have to follow the instructions in the Medicare care provided to you.
Applicants who are not enjoying Social Security benefits, but have crossed 65 years

You must make your application for Medicare plans at least three months before you turn 65.
You can opt for both Medicare A and Medicare B simultaneously.
In case you are in the last three months of your Initial Enrolment period, you're the coverage commencement date of Part B will be delayed automatically. The same thing applies if you want to wait until 65 years for the initial sign-up process
Applicants who do not yet enjoy any Social Security Benefits

If you have crossed 65 years, You must apply for Medicare even if you are not getting Social Security Benefits.
Make your application at least three months before you turn 65.
For more detailed information on Medicare benefits go to the governments Guide to Medicare.
Medicare Part A
(Hospital Insurance) covers inpatient hospital, skilled nursing facility, home health care and hospice care. Medicare Part A also pays for all but the first three pints of blood in a calendar year.
Medicare Part B
(Medical Insurance) covers reasonable and necessary medicare medical services, including doctors' services, laboratory and x-ray services, durable medical equipment (wheelchairs, hospital beds etc.), ambulance services, outpatient hospital care, home health care, blood and medical supplies. In most cases, Medicare Insurance pays 80 percent of the cost of covered services. Medicare Part B also pays for some preventive services. Ask your physician about screening tests, flu shots, and vaccines covered by Medicare.
Medicare Part C
Medicare Part C is also called Medicare Advantage and is an optional plan that will combine all the benefits of Medicare Parts A & B, as well as Medicare prescription drug coverages and may provide some or all of the benefits previously available through a standardized Medicare supplement plan. These Medicare Advantage Plans may be "Managed Care" type plans such as HMO, PPO, or Private Fee for Service plans.
Medicare Part D is the optional Medicare prescription drug coverage and makes coverage for prescription drugs available to all people with Medicare.
Most people get their Medicare health coverage in one of two ways. Your costs vary depending on your plan, coverage and the services you use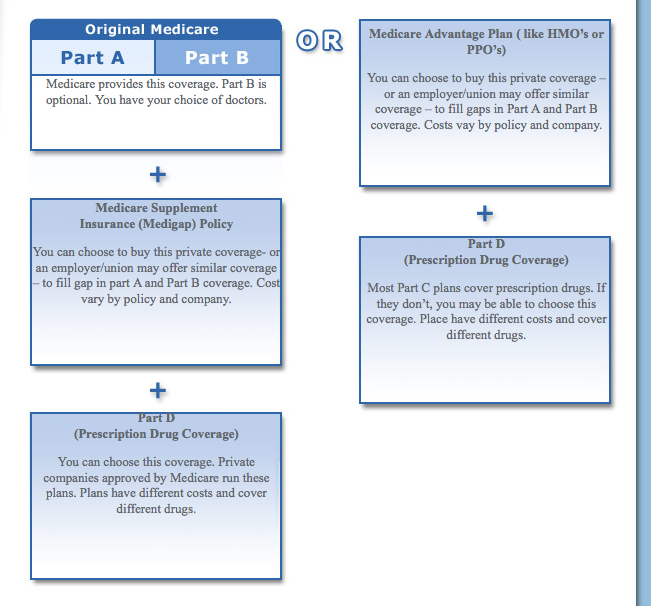 How to Enroll
If you are already receiving Social Security benefits
You will be automatically enrolled in Medicare Part A and Part B effective the month you turn 65.
Your Medicare card will be mailed to you about 3 months before your 65th birthday.
If you do not want Medicare Part B, follow the instructions that come with the card.
If you are approaching age 65 and not getting Social Security benefits or Medicare
You can apply for both at the same time.
You should apply three months before the month you turn 65.
This is the beginning of your 7 month Initial Enrollment Period. If you wait until you are 65, or in the last 3 months of your Initial Enrollment Period, your Medicare Part B coverage start date will be delayed.
You do not yet get Social Security Benefits and you want to apply
If you are close to age 65 and not getting Social Security benefits, you must apply for Medicare.
You can apply by calling or visiting your local Social Security office, or by calling Social Security.
You should apply three months before the month you turn 65.