We are a family business helping seniors for 30 years, Please visit us on Angie's List.
Enter Your ZIP Code for a FREE Medicare Supplement Quote!
Your information is safe and secure with us and not sold or shared with any other company.
Medigap Health Plans
Medicare is federal health insurance for people age 65 and older, under age 65 with certain disabilities, and any age with End-Stage Renal Disease (permanent kidney failure requiring dialysis or a kidney transplant) who are a US citizen or have been a permanent legal resident for at least 5 continuous years, regardless of their income.
Medicare is divided into a number of parts. Original Medicare (Part A and Part B) covers many health care services and supplies, but there are many costs and co-payments (gaps) it doesn't cover. For more detailed information on Medicare benefits go to the governments Guide to Medicare.
Medicare Part A
(Hospital Insurance) covers inpatient hospital, skilled nursing facility, home health care and hospice care. Medicare Part A also pays for all but the first three pints of blood in a calendar year.
Medicare Part B
(Medical Insurance) covers reasonable and necessary medicare medical services, including doctors' services, laboratory and x-ray services, durable medical equipment (wheelchairs, hospital beds etc.), ambulance services, outpatient hospital care, home health care, blood and medical supplies. In most cases, Medicare Insurance pays 80 percent of the cost of covered services. Medicare Part B also pays for some preventive services. Ask your physician about screening tests, flu shots, and vaccines covered by Medicare.
Medicare Part C
Medicare Part C is also called Medicare Advantage and is an optional plan that will combine all the benefits of Medicare Parts A & B, as well as Medicare prescription drug coverages and may provide some or all of the benefits previously available through a standardized Medicare supplement plan. These Medicare Advantage Plans may be "Managed Care" type plans such as HMO, PPO, or Private Fee for Service plans.
Medicare Part D is the optional Medicare prescription drug coverage and makes coverage for prescription drugs available to all people with Medicare.
Most people get their Medicare health coverage in one of two ways. Your costs vary depending on your plan, coverage and the services you use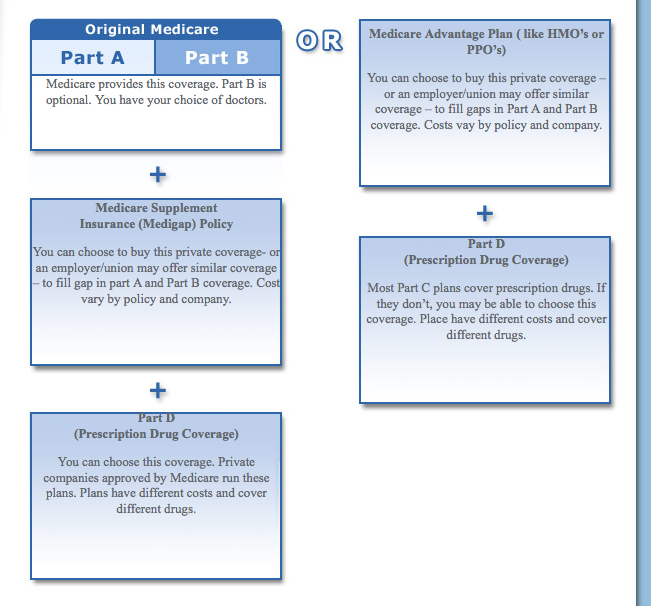 How to Enroll
If you are already receiving Social Security benefits
You will be automatically enrolled in Medicare Part A and Part B effective the month you turn 65.
Your Medicare card will be mailed to you about 3 months before your 65th birthday.
If you do not want Medicare Part B, follow the instructions that come with the card.
If you are approaching age 65 and not getting Social Security benefits or Medicare
You can apply for both at the same time.
You should apply three months before the month you turn 65.
This is the beginning of your 7 month Initial Enrollment Period. If you wait until you are 65, or in the last 3 months of your Initial Enrollment Period, your Medicare Part B coverage start date will be delayed.
You do not yet get Social Security Benefits and you want to apply
If you are close to age 65 and not getting Social Security benefits, you must apply for Medicare.
You can apply by calling or visiting your local Social Security office, or by calling Social Security.
You should apply three months before the month you turn 65.