We are a family business helping seniors for 30 years, Please visit us on Angie's List. Call the number below to speak with a licensed agent.
Enter Your ZIP Code for a FREE Medicare Supplement Quote!
Your information is safe and secure with us and not sold or shared with any other company.
Medicare – Medigap Supplement Guide
Are you confused because you cannot make out which of the Medicare Health Insurance plans  or Supplement Health Insurance plans will be ideal for you? Do not worry much because Mediagap 4 Seniors has developed a guide for Medicare Supplement Insurance for your convenience. All you need to do is to access the guide and determine which of the medical health insurance plans will complement with your requirements.
If you are still flabbergasted, drop us a mail without hesitation. We will get back to you as soon as possible.
We do appreciate that some of you will be there who would appreciate a brief idea about the contents of the medicare insurance guide. Thus, we have enlisted some of the key contents of the Medicare Supplement Insurance for you. Watch out.
Unlike the Original Medicare policy, the Medigap Supplement Health Insurance are sold by private agencies. Therefore, you need to compare the monthly premiums and yearly deductibles charged by different agencies before finalizing the deal with anyone.
Medigap coverage plans start functioning when the coverage provided under Medical Insurance has expired. The tenure until which this coverage is provided can range up to 365 days.
A subscribed will be entitled to copayments, deductibles, as well as coinsurances when he opts for this medical Health Insurance.
The distinctive feature of Medigap is that it provides health coverage to categories that are not covered by the original Medicare plan.
You can only use Medigap as a supplemental plan for the Original Medicare. However, it will never work in coordination with Medicare Advantage Plan.
Now you might wish to know more about the method in which the Medicare premium is calculated. For your information, the following criteria are considered by the concerned authority.
The place where you reside
The age at which you have opted for the policy
The present status of your health condition
The gender of the applicant
The gender of the applicant
Whether the applicant is a smoker of not
While this is a brief synopsis of Mediagap policy, the coverage it guarantee and the  factors for determining the premium payable by you, more information can be provided if you drop us a mail. So, you must hurry up.
How Medicare Insurance and Medigap Insurance Work
A Medicare Supplement Insurance policy, also known as Medigap Insurance is private health insurance that is designed to supplement Medicare Insurance. Medicare Insurance is health insurance for people age 65 or older, under age 65 with certain disabilities, and any age with End-Stage Renal Disease (permanent kidney failure requiring dialysis or a kidney transplant).
Original Medicare (Part A and Part B) covers many health care services and supplies, but there are many costs (gaps) it doesn't cover. These include, but are not limited to, monthly premiums, deductibles, co-payments, coinsurance, long-term care, routine dental care, dentures, cosmetic surgery, acupuncture, hearing aids, and exams for fitting hearing aids. You pay the full cost of services not covered by Medicare.
Medigap Insurance helps pay some of these health care costs that Original Medicare doesn't cover. If you are in Original Medicare and you have a Medigap policy, Medicare will first pay its share of the Medicare-approved amounts for covered health care costs. After that your Medigap policy pays its share. (Note: Medicare doesn't pay any of the costs for you to get a Medigap policy.)
The Gaps In Coverage
Medicare Premiums for 2016:
Part A:(Hospital Insurance) Premium
Most people do not have to pay a monthly Part A premium because they or a spouse has 10 years (40 quarters) or more quarters of Medicare-covered employment.
The Part A premium is $254.00 per month for people having 30-39 quarters of Medicare-covered employment.
The Part A premium is $461.00 per month for people who are not otherwise eligible for premium-free hospital insurance and have less than 30 quarters of Medicare-covered employment.
Part B:(Medical Insurance) Premium:
The standard Medicare Part B monthly premium will be $110.50. A small number of beneficiaries with higher incomes will incur an income-related adjustment. For details refer to SSA Publication No. 05-10161 – New Rules for Beneficiaries With Higher Incomes – or call 1-800-772-1213
Medicare Deductible and Coinsurance Amounts for 2016
Part A: For each benefit period Medicare pays all covered costs except the Medicare Part A deductible ($1,100) during the first 60 days and coinsurance amounts for hospital stays that last beyond 60 days and no more than 150 days.
For each benefit period you pay:
A total of $1,132 for a hospital stay of 1-60 days.
$283 per day for days 61-90 of a hospital stay.
$566 per day for days 91-150 of a hospital stay (Lifetime Reserve Days).
All costs for each day beyond 150 days
Skilled Nursing Facility Coinsurance:
$141.50 per day for days 21 through 100 each benefit period.
Part B: (covers Medicare eligible physician services, outpatient hospital services, certain home health services, durable medical equipment)
$162.00 per year. (Note: You pay 20% of the Medicare-approved amount for services after you meet the $162.00 deductible.)
What you need to know to Buy a Medigap Policy:
Generally, you must have Medicare Part A and Part B to buy a Medigap policy. You pay a monthly premium for your Medigap policy to a private insurance company. Medigap Policies are the same but the costs are not. There can be big differences in the premiums that different insurance companies charge for exactly the same coverage. Paying more for this coverage will NOT give you any more benefits. This is why you need to be diligent in choosing a company.
You can buy a Medigap policy from any insurance company that is licensed in your state to sell you one. If you and your spouse both want Medigap coverage, you will need to buy separate policies. A Medigap policy only covers one person.Any standardized Medigap policy is guaranteed renewable even if you have health problems. This means the insurance company cannot cancel your Medigap policy as long as you pay the premium.
Some Medigap policies sold in the past covered prescription drugs; however, no new Medigap policies include prescription drug coverage. If you want prescription drug coverage, you may want to join a Medicare Prescription Drug Plan (Part D) offered by private companies approved by Medicare.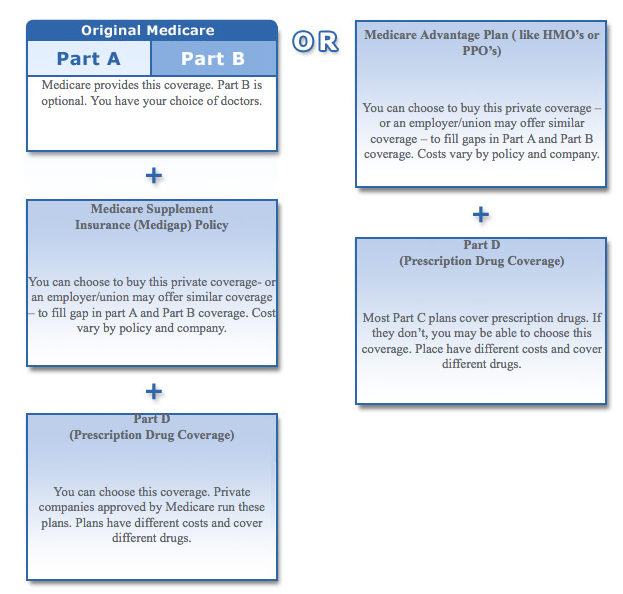 How insurance companies set prices for Medigap policies
Each insurance company decides how it will set the price, or premium, for its Medigap policies. Medigap policies can be priced in three ways:
Community rated, also called "no-age-rated". Premiums are not related to age. Everyone in the same geographic area pays the same regardless of age at the time of purchase. Premiums won't go up as your get older. (they will increase due to Medicare's inflation adjustments)
Attained age rated. This produces the lowest apparent premiums, particularly for people who just turned 65. Premiums increase as you get older in addition to Medicare's inflation adjustments.
When to Buy Your Medigap Policy
The best time to buy a Medigap policy is during open enrollment, the 6-month period that begins on the first day of the month in which you are both age 65 or older and enrolled in Part B. (Some states have additional open enrollment periods.) After this initial enrollment period, your option to buy a Medigap policy may be limited so we highly recommended that you purchase your Medigap policy during open enrollment. This period will last for six months.
During that 6 month period an insurance company cannot:
Refuse to sell you any plan it offers
Make you wait for coverage to start
Charge you more for a Medigap policy if you have a health problem
In some cases Medigap insurance companies can make you wait, up to six months, for coverage of a 'pre-existing condition.' Be sure and do your homework and ask if you will be required to wait due to a pre-existing condition. Not all Medigap plans require you to wait.
The supplemental health insurance company must shorten or eliminate any waiting period if:
You bought your Medigap during an open enrollment period
You buy your policy after open enrollment, but you had health coverage that will pass Medicare's 'Creditable Coverage' criteria, which includes most types of health care insurance coverage. To find out if your basic health coverage is creditable coverage, call a Medigap insurance company or your State Insurance Department
For coverage to be creditable you cannot have had a break in coverage that lasted more than 63 days in a row immediately before you buy your policy. You must apply for a policy no later than 63 days after your health care coverage ends.
What Happens if I miss my Open Enrollment Period?
Once you are past your "open enrollment" period, the insurance companies do not have to sell you a policy. In addition they are allowed to charge you extra for the policy. There are some exceptions to that; for example, your private health care coverage ended or you were in a Medicare Advantage Plan
If you have decided to not sign up for a basic Medigap policy during open enrollment, you will need to have copies of the following paperwork to prove your guaranteed issues rights:
A copy of any letters, notices, and/or claim denials as proof of continued health care coverage (must have your name on it)
Any postmarked envelopes from the insurance company in which the papers came, this will help prove dates of coverage
Other words of advice: If you did not get a Medigap insurance policy during open enrollment and are thinking of one now you should apply before your current health coverage ends. You can choose to start your Medigap coverage the day after this policy ends. This will prevent a break in your health coverage.
Now that you have a better understanding of how Medicare and Medigap work, it's time to take a look at the
Enter Your ZIP Code for a FREE Medicare Supplement Quote!
(Lowest Rates in the Industry for your Area)