We are a family business helping seniors for 30 years, Please visit us on Angie's List. Call the number below to speak with a licensed agent.
Enter Your ZIP Code for a FREE Medicare Supplement Quote!
Your information is safe and secure with us and not sold or shared with any other company.
Medicare – Medigap Supplement Comparisons
Shopping for a Medigap policy can be confusing. Medigap 4 Seniors takes the hard work out of making a selection that's best for you and your loved ones. Be sure to carefully review and compare each policy's details, including features such as the right to renew and exclusions for pre-existing conditions.
Most insurance companies that provide Medigap insurance have agreements with Medicare to receive claims directly so you don't have to submit claims–be sure to ask the Medicare supplement insurance company if it has a "crossover" arrangement with Medicare. Insurance companies are required to offer a 30-day "free look" period for Medigap plans, during which your loved one can cancel for a full refund.
Each of the Medigap plans plans costs a different amount, and each health insurance company may charge a different premium on top of what you pay for Part B coverage. Fill out the medigap quote form on this page to get precise quotes. The more information you provide us, the better we can target and compare the best Medicare Supplement Plan for you.
Medigap 4 Seniors will help you save money by providing you with a Medigap Plan that fits your needs whether you are new to Medicare or looking to switch plans. We provide plans from only the top "A" rated companies with strong financial standings.
Reasons most Seniors prefer Medicare Supplement Plans
You can choose your own doctors and hospitals.
No referrals needed for specialists
Coverage is guaranteed renewable. (you can never be canceled other than for non-payment).
You can use your coverage anywhere in the United States and when traveling out of the United States.
Coverage automatically increases as Medicare raises their deductibles and co-pays, the plan never becomes outdated.
It is easy to switch on and off these plans.
An Overview of Medigap Plans K and L
Medigap plans K and L require you to pay an out-of-pocket deductible. This results in lower monthly premiums. After you reach your out-of-pocket limit, both plans will pay 100 percent of your Medicare coinsurance for covered services. These plans may save you money if you currently have low medical expenses, but be aware that unplanned future health care costs could occur. Also, switching to another Medigap policy at a later date may be difficult when you find you need more medical services.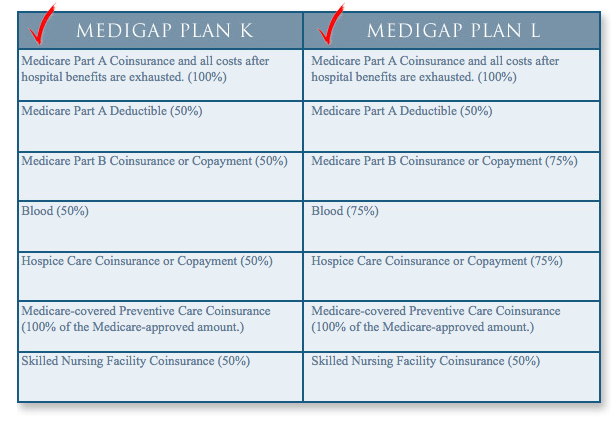 Enter Your ZIP Code for a FREE Medicare Supplement Quote!
(Lowest Rates in the Industry for your Area)